As a cardiologist and a strong advocate of plant-based nutrition (it's the only diet ever shown to reverse existing heart artery blockages), I was more than a little excited when a friend called a few weeks ago and asked if I wanted to go to dinner with Brian Wendel, the executive producer of the smash hit Forks Over Knives. I'm such a fan of this documentary about veganism that I require my patients to watch it with their families.
My wife and I were recently in Los Angeles for 24 hours (I had a brief business meeting) and we were excited to check out the city's vegan offerings. So I did some research and decided to plan a marathon tasting.
1. Veggie Grill (multiple locations)
The first stop after landing at 4pm was a dash to Veggie Grill in West Hollywood. This rapidly expanding fast-casual chain emphasizes vegetarian food for the non-vegetarian and offers great salads, bowls, wraps and burgers with faux meat that would satisfy anyone.
At Veggie Grill, I had a small bowl of their vegan Chickin' Noodle Soup, served only on Fridays in honor of the Sabbath. It was such a treat, as I haven't had the meat-based version in 30 years. The broth was made of vegetable stock, loaded with noodles and carrots, and had floating pieces of white "chicken" (actually it was Gardein, made from non-GMO soybeans, wheat and peas). The dish brought back memories of my grandmother's cooking. Don't miss it.
2. Gracias Madre (West Hollywood)
Next we headed to the very popular Gracias Madre on Melrose Avenue in West Hollywood This Mexican vegan eatery is an offshoot of the Café Gratitude chain (which I ate at and loved on another quick trip to LA in January). It's large with seating indoors and out and features a huge bar with tequilas and mezcals. I was there around 7pm, when the restaurant was packed (and I even spotted Cheryl Hines from Curb Your Enthusiasm). I had a flight of mezcals paired with raw juices, which was delicious as were the plates of tacos and homemade tortillas. I highly recommend it!
3. Seed Kitchen (Venice)
After a quick sleep and an early morning business meeting, I was off to the Seed Kitchen in Venice. This small gem features macrobiotic dishes prepared by well-known chef Eric Lechasseur. When Eric isn't making three kinds of seitan and delicious croissants (butter-free of course), he provides personal chef services to the likes of Toby Maguire, Sting, and Madonna.
I had a sampling of tofu scramble, a blackened tempeh wrap, and the extremely popular Rosemary Seitan Bowl, and everything was amazing. I also had the pleasure of sitting with Eric and his darling wife Sanae Suzuki, each authors of books on food and healing.
4. Sage (Culver City)
I had to walk a bit to make room in my stomach for more food, but thankfully I did, because the next stop was Sage, a bistro on Sepulveda Blvd in LA that is also part of the Café Gratitude network. This spot has become very popular in the past year, featuring vegan farm-to-table produce. It's decorated with tractors and other farm equipment to emphasize its commitment to locavore eating. The bar is open very late by LA standards (closing after midnight!) and is a popular spot after film screenings.
As I only had a little bit of room left, I opted for a scoop of the superfood chocolate creamy ice cream (with an almond milk base) dotted with hemp, chia, blue green algae, macadamia nuts and more. Who needs 31 flavors when you have one this good?
5. Native Foods (multiple locations)
Although we still had big dinner plans, I wanted to see Native Foods, another growing fast-casual vegan chain. There, I had to sample some "comfort food" and had a BBQ "brisket" (made from organic soybeans and millet) on a multigrain ciabatta bun, which was amazing. Although this may not meet the criteria for a heart disease reversal food choice (due to the high fat content), meat eaters would love it.
6. Crossroads Kitchen (West Hollywood)
The last stop was at Crossroads Kitchen (also on Melrose) to finally dine with Brian Wendel, his significant other Darshana and four other friends. This large and elegant restaurant has been open about a year under the directions of super chef Tal Ronnen, vegan chef at the Wynn Hotels, who is also a best-selling author and TV star.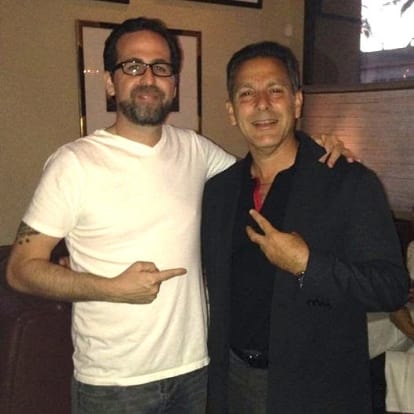 Tal graciously greeted our party and sent over some appetizers (polenta fries with housemade balsamic ketchup and lentil flatbread with three spreads) to kick off the evening.
Crossroads features small plates and we sampled seven or eight of them, including my favorite, the risotto stuffed hot banana peppers. It was a great reminder of how delicious plant-based eating can be. Do not miss this world class eatery if you visit LA!
Meeting Brian and Darshana was also wonderful. He is totally stoked about their next book, Forks Over Knives Plan, which launches in September.
Written by two doctors featured in the movie, the guide gives the details to implement the FOK lifestyle. Darshana just returned from four months at the Natural Gourmet Institute in New York, graduating with new skills and recipes to grow her catering business.
7. Sweet Lady Jane (West Hollywood)
not 100% vegan, but they have vegan treats
I thought we were done but as our group was strolling down Melrose Avenue, we passed the famous bakery Sweet Lady Jane, which features teas and vegan carrot cake. We splurged on one piece with six forks, no knives, and ended the evening knowing we had dined well and practiced ahimsa, too.
I am not sure when I'll get back to LA, but is great to see such a vibrant community of delicious and often super-healthy plant based options.
Photo of baby beet salad: Crossroads Kitchen website
Photo of the author and super-chef Tal Ronnen courtesy of Dr. Joel Kahn
Originally posted on MindBodyGreen.com