Ready for the ultimate road trip? Our new series will show you where wellness trailblazers are heading to sweat, eat, and unwind in their respective cities. Today, we're traveling through Detroit with cardiologist and healthy living expert, Dr. Joel Kahn.
I was born in Detroit long ago and have since witnessed its strengths and weaknesses firsthand. I've worked in the city and surrounding suburbs for years, and have cared for its citizens in hospitals, clinics and my office practice.
And I can truly say that today, the spirit and pride in Detroit has never been higher. The greater Detroit area is tailor-made to be a wellness mecca, with its beautiful international waterways, parks and recreational areas to encourage a variety of outdoor activities. Here are some of the best places to pursue health and wellness in the Motor City and surrounding suburbs.
How I move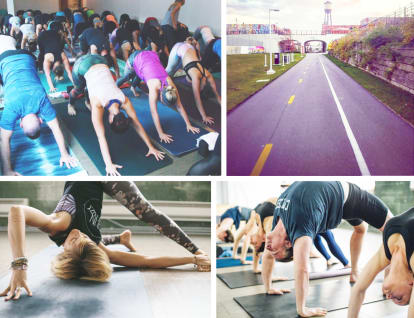 I get outside.
The Dequindre Cut is a former Grand Trunk Railroad line that is now a 20-foot wide paved path for walkers, runners and bikers. It was extended in the spring of 2016 to reach the Detroit Eastern Market and is crowded with families enjoy outdoor exercise. The urban artwork and graffiti provide a local color.
NetworkingOut is group that organizes runs and boot camps in the city with the goal of exercising the body while providing an opportunity to meet other people of similar spirit.
I try out local fitness classes.
Citizen Yoga has a center in Detroit and suburban Royal Oak and has developed a loyal following under the careful teaching of Kacee Must, who spent several years studying on an ashram in Pune, India. The lunchtime classes in Detroit give office workers an opportunity to get on and off their mat and back to work with better energy and mindfulness.
Detroit Body Garage led by Terra Castro is a former bank that has been transformed into a unique community fitness center that offers boot camps, children workshops, yoga, and community events. Castro recently opened her gym to a fun run led by Rich Roll to support healthy plant based nutrition in Detroit.
How I eat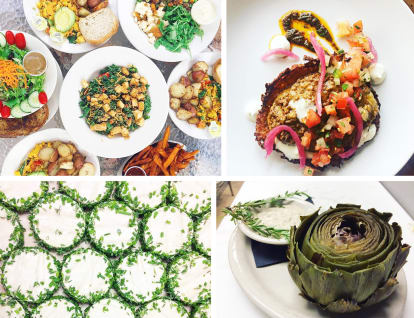 I dig into the ever-expanding plant-based options.
Detroit Vegan Soul began as a catering and food delivery service but opened a brick and mortar café in the West Village of Detroit in 2014, close to Detroit Body Garage. DVS as it is known offers plant-based selections with a southern flare—watch out for long lines on Sunday for the famous brunch preparation.
Seva Restaurant, on the other hand, has been an Ann Arbor institution since 1973 but opened in midtown Detroit two years ago to add a plant-based option with a full bar. The brick walls are covered by local artists and the restaurant itself is next to a venerated art gallery, the N'Namdi Center for Contemporary Art.
Townhouse opened in suburban Birmingham to great success and its new Detroit location is primed to become a hub of food and fun. Owner Jeremy Sasson and his team have succeeded with a signature eatery featuring a retractable roof. With the anticipated opening of the Detroit Red Wings hockey complex not far away, Townhouse is sure to remain a notable stop for visitors to Detroit.
GreenSpace Café opened in late 2015 a mile from the Detroit city line in the eclectic suburb of Ferndale. Ferndale has become a hot destination for restaurants, bars and clubs lining Woodward Avenue, home of the Dream Cruise every August. I opened the plant-based artisanal café along with my son Daniel, and it features organic juices, liquor and craft cocktails more typical of the West Coast. Awards for the best gluten-free and vegan options in the city, along with a commitment to the finest sourcing of non-GMO ingredients, have made GreenSpace Café a favorite of Detroit's wellness community.
How I restore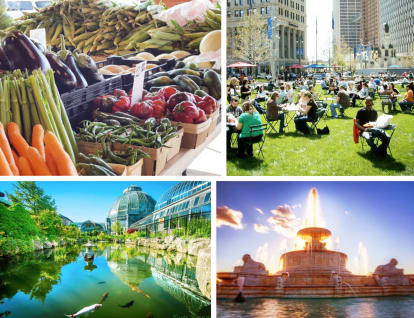 I explore the city by land and water.
The beauty of Detroit can be appreciated on bike—WheelHouse Detroit offers rentals and tours to enjoy the scenery. Be sure to check out the music, food trucks and gardens of Campus Martius Park, situated in the center of the city's business district. Another Detroit wellness gem is Belle Isle, situated in the Detroit River with Canada on the other side. The scenery is breathtaking and best enjoyed during the spring, summer and fall by kayak or canoe from RKC Adventures. The island's beach is also a fun spot for sun and games during the summer along with other destination family activities.
I attend local traditions.
One of the oldest and largest year-round markets in the U.S., Eastern Market draws tens of thousands of visitors each weekend to stroll, chat, enjoy music, and taste locally produced treats. The renewal of the area has led to many restaurants and the sheds are the hottest places for weddings and charitable functions.
How I play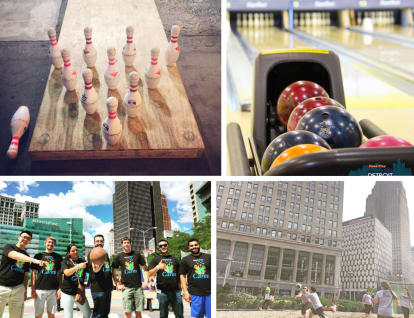 I enjoy the burgeoning sports scene.
Detroit is about to become the finest sports venue in the U.S. with all four major sports teams concentrated and driving urban renewal. ComePlayDetroit is a dynamic organization that sponsors sports leagues, for kickball, softball, sand and indoor volleyball, basketball, bowling, broomball, flag football, bubble soccer and more. They have even organized giant yoga events in Detroit's sports arenas. Detroit Sports Zone also offers basketball courts, sand volleyball, Ping-Pong, giant jenga, cornhole and more fun for all. Fowling Warehouse can be found in nearby Hamtramck and combines football and bowling. Add some food and booze and lots of fun is assured.
The city and surrounding areas afford many choices for wellness with a wide choice of green spaces, green eating, and beautiful views. Along with Shinola watches and Ford Mustangs, wellness is made in Detroit now, too.
Want to see how other wellness leaders are spending their days all across the map? Check out the rest of our City Guides here.
Originally posted on MindBodyGreen.com